Choosing your Favorite Reed Diffusers is personal. First, what kinds of scents catch your attention? What kind of scents make you feel good? Which scents remind you of favorite places or good times?  Choose Scents Here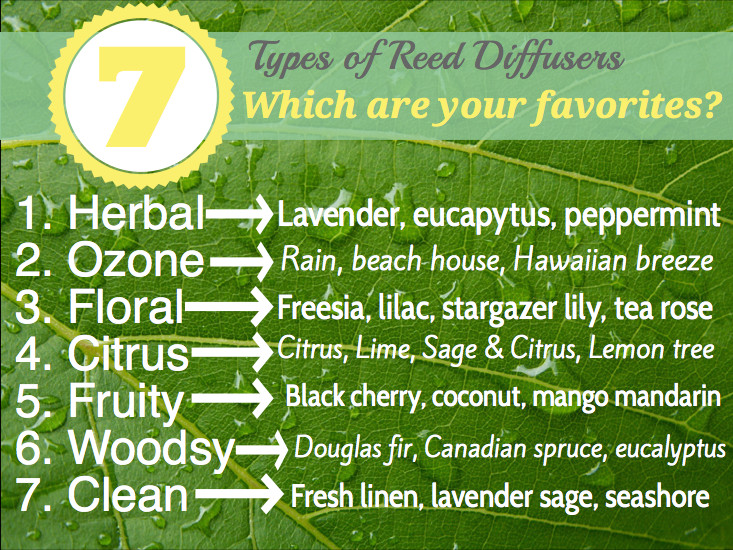 Some people like fragrance that cuts through the air like a January wind in snowy woods. Others prefer ozone-type scents like rain and ocean fresh scents.
Some people like fruity scents and berry scents. These are sweet- calling you to inhale something that's luscious and juicy.
Herbal scents are a singular fragrance choice with a definite plant matter scent, specific, and very different from one to the next.
Citrus scents have a zesty, crisp element. They also blend well with herbals.
Florals are a popular choice because they commonly carry us back to places and times in our lives. Lilac takes me back to cutting stems of lilac blossoms for my mother when she would send me out to the yard with her big black kitchen shears, and then she'd put them in glasses around the house. Freesia and Stargazer lilies are popular in bridal bouquets, so they reflect big events with family and friends.
Woodsy scents especially bring the outdoors in and are popular with those who want their homes to reflect their love of the outdoors.
Favorite reed diffusers come in such a variety and, not surprisingly, these favorites are affected by geographic regions. Example: If you live in a warm, humid place, your favorite reed diffusers might lean toward fresh and cool.
A really nice advantage of reed diffusers over sprayables is that reed diffusers are long lasting and can be capped and swapped for a change of scent easily. Keep a variety of choices handy and you'll always have a reed diffuser that matches your mood.